Welcome to





Another stop on the DIY Tube Audio highway...





It's been a long time coming for an update to my site. If you'd like to visit my original one, here's a link.

Click the logo above to go to a page of photos taken at the
European Triode Festival 2006 at Biezenmortel, Netherlands.

Click the logo to go to a page of photos taken at the
European Triode Festival 2007 at Biezenmoretl, Netherlands.
I started building my own tube amplifiers some years ago after I made a successful electrical restoration on
four McIntosh MC-30 amplifiers that I had owned for years. My repair person passed away so I was
forced to learn to repair them or change to <gasp!> solid state. My uncle who's a Ham operator
from waaaayyyyy back, turned me on to Antique Electronic Supply in Arizona where I ordered parts
to restore all four amps. I later found a box at an estate sale labeled "Old Tubes" which I bought
along with some other goodies and found several used Type 45 tubes. About that time I had started reading
Sound Practices magazine, the best DIY rag that's ever been printed. Reading about what some other folks
were doing with these flea power tubes got me interested and I built my first from-scratch amp. You can see
information about it and the other amps I've built. Just scroll on down and click the picture that interests you.
If you're interested in an amp you see here, I do build custom amps on a per-order basis. Just drop me an email.
I think it's time to insert my disclaimer:
TUBE AMPS AND OTHER TUBE EQUIPMENT USE LETHAL VOLTAGES WHICH CAN BE
PRESENT WHEN THE AMP IS TURNED OFF AND UNPLUGGED. ANYTHING YOU USE FROM
THIS SITE IS AT YOUR OWN RISK. BE CAREFUL AND DON'T KILL YOURSELF.
IF YOU ARE NOT COMFORTABLE WORKING WITH HIGH VOLTAGES, ENLIST THE
HELP OF SOMEONE WHO IS.
That being said, have fun.

My first DIY amp, a SE Type 45. Crude compared to my current work, but this is where I started.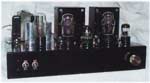 This is still my shop amp today. I listen to it with a Teac CD player and a pair Electro-Voice "Aristocrat" speakers
which were a gift from the the builder, the father of a business associate, who knows I have this interest. They're
very efficient speakers and play with plenty of volume with only 1.5 watts.
It was around the time I built this amp that I decided to use the name Time Bandit. It's a name I used some years ago
for a resale shop. It describes what I do with my amps: Take the best of the old and recreate it with new components run
conservatively. My aesthic ideas were inspired by the McIntosh amps I have and I appreciate the McIntosh build quality.
This is the first amp I built for a client who found my website and emailed me. This amp went to the Chicago
area and now it lives on the east coast.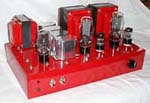 I built another one of these amps which is still in use by a friend in Fort Worth, Texas.
I had read quite a bit about SE triode amps by this time and of course, the 300B was featured prominently. I had to try one and
here is my first stab at a 300B amp.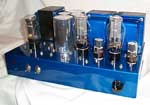 I could never get the hum level low enough in this amp. I eventually built three different amps in this chassis and I settled
on the WE91A circuit as my favorite.
My friend, Ray Gallagher, owned a 2A3 amp like the one you see above, and when he heard the 300B, he had to have one.
This is the one I built for him.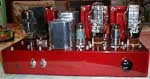 This amp was built almost 5 years ago and has had heavy use without a failure (except for the driver tubes).
I began to have problems with the Philips 6SJ7GT tubes that I was using. They were prone to heater-cathode shorts
in this circuit causing ugly hum. I tried the metal 6SJ7s with some success, but lately I have been using 5693s exclusively
with very good results. I've been collecting them for some time and I have a good stock on hand.
A friend from Houston heard Ray's amp and he wanted one too :-) David had seen a red amp and a blue amp, so
after a little discussion, we decided on a white finish. I think it's a very distinctive style, very clean-looking.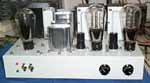 My very good friend, Ton van Loenen, from Oirschot, Netherlands, always appreciated my amps and loved to hear
vintage jazz recordings when he visited me. He very much wanted an amp of his own, so I built him this one.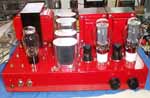 Sadly, Ton passed way on 19 August, 2005. He enjoyed his amp even through his illness. I'm happy that I could do
this for him. The amp is still making music for Marlies Vonk, his life partner. Marlies is an artist. Take a look at her work
at www.marliesvonk.com (IE compatible only)
Until now, I had used Hammond transformers exclusively, primarily due to their price level, but also, they are
good performers. I decided to try another brand about which I had read good things, the James 6123HS. I can say
that they do exceed the performance of the Hammonds to my ears. I am not technologically advanced enough
do any meaningful comparisons, but from what I've seen published on the web, the James iron is very good.
This is the first amp I built using the James iron and it's the one I listen to every day in my own home.
Here's my second European amp, built for Wouter Vriesman who lives near Amsterdam.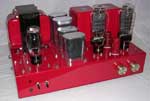 Here's a link to my monster project, the SE845. It's still a work in progress.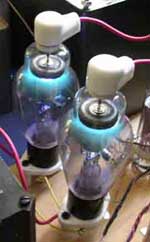 Here's a link to an amp I built using Type 47 pentodes. Unlike my usual designs.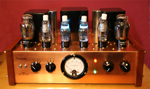 Here's a link to an amp I built in May of 2007 for Hal Hudgins of Tyler, Texas.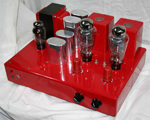 Here's a link to an amp I built in August of 2007 for Larry Terry.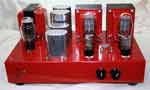 There's more to come in the near future, so check back again.


I welcome email from tube hobbyists.

© Raymond Koonce 1998-2007 all rights reserved.